Martha Lesperance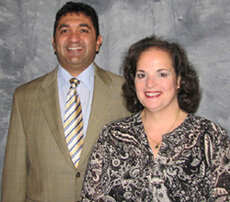 Martha Lesperance has been an Assembly of God missionary since 1984. From 1984 to 2007 she served as a foreign missionary in the countries of Ecuador, Mexico and Argentina. During a period of furlough she noticed the vast numbers of non-English spe
aking immigrants not being reached with the gospel, so in 2007, she transferred to Home Missions and has been planting ethnic churches across the Gulf Region. In 2015 Martha and her husband began working among the ethnic and inner city population of Huntsville, Alabama. They were facilitated in their work by the District of Alabama who made it possible for them to use the First Assembly of God facility. First Assembly of God had previously been a thriving church. When Martha and her husband received the key to the facility there were only 8 people remaining 72 to 94 years old. The building was uninsurable and desperately in need of repairs. What had once been a solid middle class neighborhood, was now drug infested, housed the generational poor, prostitutes and immigrants from many nations,
The transformation of a 22,000 sq foot facility with no money was a huge challenge. Reaching the local neighborhood has been even more difficult. Martha and Michael rolled up their sleeves and began to see how they could show God's love and help meet the needs of a community that had lost hope.
Partnering with other churches and Human Resource personal from top companies they began Job Training seminars giving adults skills who had never been able to hold a job. In some cases these adults were the first to have employment in generations. Their most exciting endeavor is "Hope House" where they feed, teach and disciple people in economically needy areas each week. Some of Martha's favorite moments on this project has been providing 500 pairs of shoes for the elementary students in the neighborhood during Covid 19 when parents couldn't work, providing help with family budgets, and building relationships with local Christian business owners thereby providing employment resources. The best moments are seeing people cry at the altar finally understanding that Jesus' love is real, and that He won't hurt them. One of the most frequent things they hear after a community outreach is "I came to see you today because I need a hug".
Martha is married to Michael and they have a 10 year old daughter who is a budding musician and is homeschooled.